You can pay by bank cards: VISA Inc, MasterCard WorldWide.
To pay by a bank card when you're placing an order in the online store, select a payment method: by credit card.
When paying for an order with a credit card, payment is processed on the bank's authorization page, where you need to enter your credit card details:
Card type.

Card number. 

Validity period of the card (indicated on the front side of the card). 

Cardholder's name (in Latin letters, exactly as indicated on the card). 

CVC2 / CVV2 code.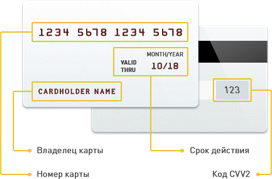 If your card is connected to the 3D-Secure service, you will be automatically redirected to the page of the bank that issued the card for authentication. For information on the rules and methods of additional identification, check with the bank that has issued you the bank card.
The security of processing Internet payments through a bank payment gateway is guaranteed by the international PCI DSS security certificate. Information is transmitted using SSL encryption technology. This information is not available to unauthorized people.
Tips and recommendations on the necessary security measures for payments when using a bank card:
Take care of your plastic cards

the same way you keep your cash safe. Do not forget them in the car, restaurant, shop, etc.

Never give your full credit card number over the phone

to any person or company. 

Always have a telephone number on hand for emergency contact with the bank

that has issued your card, and in case of loss, contact the bank immediately. 
Enter the card details only when making a purchase. Never list them for any other reason.

Service cancellation
The right of the consumer to terminate the contract for the provision of services is regulated by the Law of Ukraine "On the Protection of the Rights of Consumers".
Refunds are considered individually when contacting the website management.